You can logoff from Windows and, if the computer has a password, you must to enter it when you or someone else want to logon (login).
To logoff press Windows + L keys.
After you logoff, the screen has a background image and an avatar image for that user. You can change the avatar of the user account (Control Panel, then click on User Accounts, then click on Change your picture), but you cannot change the big background image from the Control Panel.
Here is how to change Windows 7 logon screen background.
Method 1: Using Julien Manici software
1 Download Windows 7 Logon Background Changer
Download and install the program.
2 Select Pictures Folder
Select any folder from your computer, where you keep pictures or wallpapers.
Then the pictures will be displayed as thumbnails.
3 Select an image
Click on images from the bottom side and you will see a preview. After you decide which picture to use, click Apply.
Then wait a little.
4 Logoff
Press Windows + L keys to logoff.
5 View the result
The new background is now available on your logon screen.
Method 2: Using Tweaks.com Logon Changer
1 Download Tweaks.com Logon Changer
Download, install and test the program. It is free.
2 Select folder
Click on Change Logon Screen, to select a folder with images.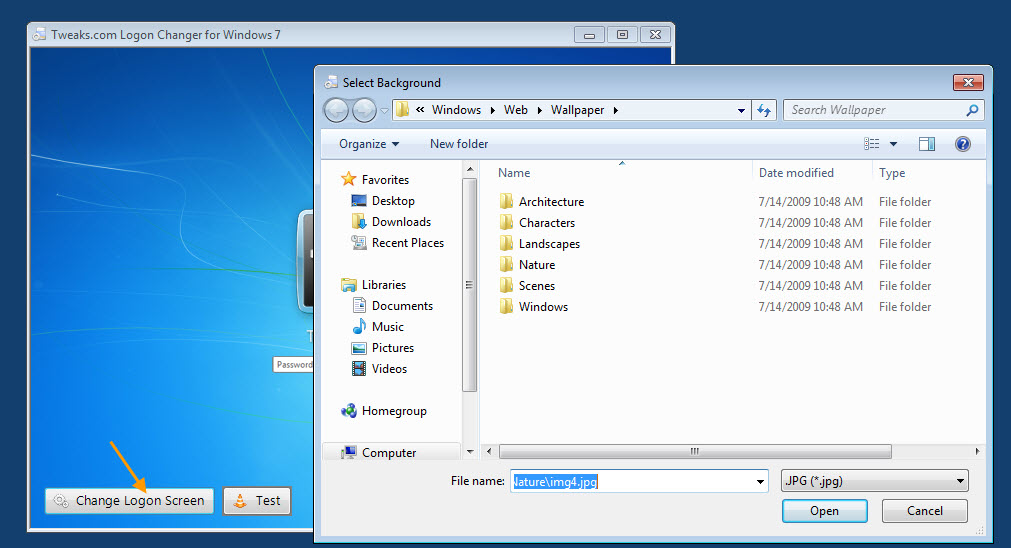 3 Resize
After you select an image, if it is too large, the program ask you if you want to resize it. Click Yes
4 The preview
A preview of selected background will be shown.
At this point, the background image is already changed.
5 Logoff
Press Windows + L to logoff.
6 The result
The background has been changed.
7 Revert to the original one
If you want to get back the original Windows background, just click Revert to Default Logon Screen